Queraïlles amb o sense jardí
Potatoes with or without garden
1. Gener es el millor momet per a comprar tubercles de queraïlles, escolliu les que ja tenen brotes.
1. January is the best time to buy seed potato tubers, choose the ones with the "eyes" or buds uppermost as soon as possible.
2. Col.loqueu els tubercles en plates especialitzades, però si voleu alforrar o reciclar podeu utilitzar hueveres de cartó.
2. Place the tubers in trays or if you want to save money and recycle you can use egg boxes (the cardboard ones).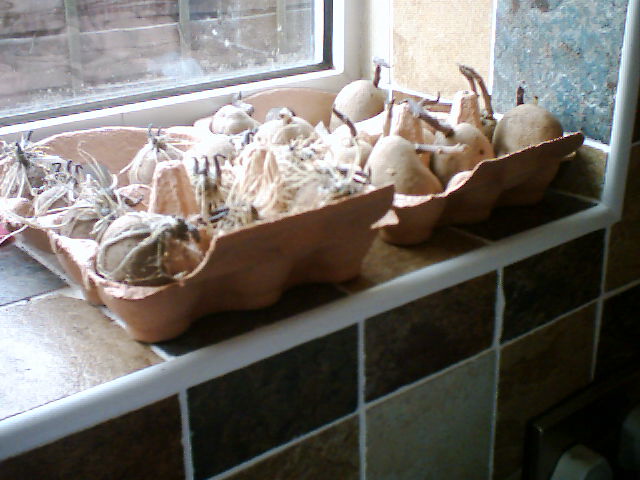 3. Posseu les hueveres en una habitació calenta i amb molta il.luminació. Ja voreu que tan depressa creixetren els brotes.
3.Place the rays in a warm, well-lit room and the tubers will soon sprout.
4. Mitjans de Març es el millor mes per plantar els turbecles en el sol de terra, ves al punt 7 per als que planteu les queraïlles en pots.
4. Handle the m carefully in order not to damage the sprouts and plant the tubers in mid-march.
5. Feu forats de 10cm de profunditat i en files de 30cmx16cm.
5. In holes about 10 cm deep and 30 cm apart in the rows with 16cm between the rows.
6. Tan prompte com que apareguen els primers brotes affegiu més terra , repetiu aquest procediment fins que les fulles de les diferents plantes es toquen entre sí.
6. As soon as shoots appear above ground, draw more soil over them as protection from frost damage and repeat this regularly until the plants reach the stage when the leaves from adjencent rows touch each other.
7. Per plantar en cases sense jardí: compreu bolses especialitzades per plantar queraïlles, una bolsa de 40 llitres pot contindre un màxim de 5 semilles.
7. Planting potatoes at home: Buy planters that holds approximately 40 litres of multiporpose compost, which is enough to plant 5 seed potatoes.
8. Pleneu un terci de la bolsa amb terra compost i planteu tres semilles. Afegiu un altre terci de terra composta i planteu 2 semilles, per últim poseu tera fins que es plene la bolsa.
8. Fill the planter to about a third full with compost and plant 3 seed potatoes into the surface. Add another layer of compost (a third again) and plant 2 more seeds potatoes. Then fill the planter up almost to the top with compost.
9. Manteniu les bolses húmedes però no inundat i aguardeu a que creixtren.
9. All you need to do now , is keep the planters moist (but not waterlogged) and wait for your potatoes to row.
10. L'avantatge de plantar en pots/bolses es que no fa falta fer el procés del punt 6.
10. No "earthing up", as previously advice, is necessary.
11. Segurament tindreu queraïlles desrpes´de 12 setmanes de estar plantades.
11. You should have new potatoes about twelve weeks after planting.